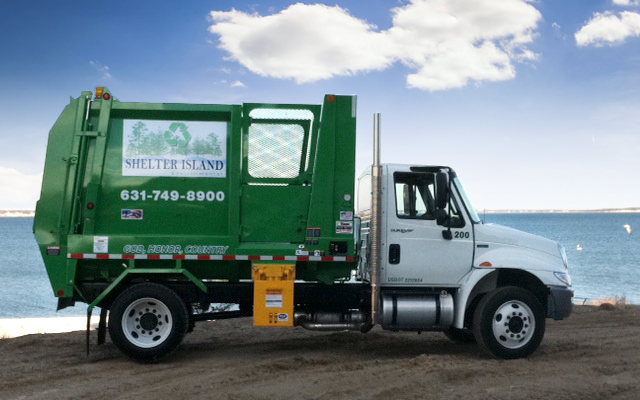 Residential Waste Removal
As Shelter Islands oldest carting company, we have been keeping Shelter Island Clean since 1962. We offer dependable residential collection services to the homes on Shelter Island. Our professionally trained and certified drivers meet safety criteria that will give you peace of mind as they move about the streets of your neighborhood. We provide dependable and friendly service to our customers and offer all of our customers a FREE 96 gallon Tote. Our 96-gallon totes hold three times more garbage than the conventional can. The totes are not only easy to roll; they keep the trash in and the critters out. In addition, we offer both curbside and back door service.  
Commercial
Our state of the art trucks provide the most efficient service available for any business no matter how big or small. We can meet all of your waste and recycling needs. Call us today and ask how we can save you money.  
Rolls-Offs
Customers choose Shelter Island Environmental Services for our efficient and professional service and timely pickup and delivery. You can be assured that our state of the art trucks and professional licensed drivers will provide timely and efficient service.

A SIES container is one that you will be proud to have at your home, business or site. They are designed to help you keep your construction area neat and orderly. Our trucks are radio dispatched so our drivers are available to drop off or pick up a container at your convenience, sparing your work crew any loss of time on the job site.

Shelter Island Environmental offers a wide variety of open-top containers for construction and demolition debris. Containers range in size from 4, 6, 10, 20, 30 and 40-yard boxes. Most are 8 feet in width and all back doors open for easy convenience.  
Clean-Outs
There is no job too big or small for Shelter Island Environment Services. We offer complete house, basement and garage cleanouts 7 days a week. In addition, we can remove any and all bulk items from your house or business.  
Demolition & Land Clearing
We are a full-service demolition company specializing in all phases of demolition. There is no job too big or small. Our demolition team specializes in complete structure removals, partial removals, and interior demolitions. Call us today for a free estimate.